Here in Bristol we like to have lots of parties and get pissed up on Cider, Red Stripe and Rum as soon as the summer kicks in. The best party of all in my opinion is Saint Pauls Carnival. I only went down there for a couple of hours this year and avoided total carnage. It was great to experience all the sights smells and sounds though on an amazing sunny day.
Reminds me also of this piece I painted a while back which is based on the carnival.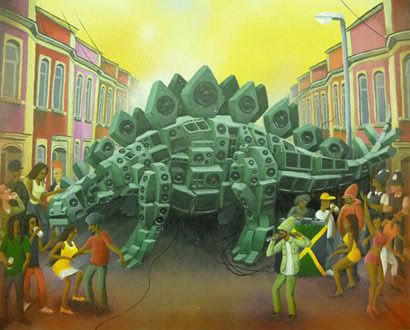 Of course, I've never been so out of it that I have seen a Stegosaurus made of speakers there. It would be cool if there was one though, I'm sure it would be very popular. I also got inspiration from old dub album covers such as this shonky King Tubby one..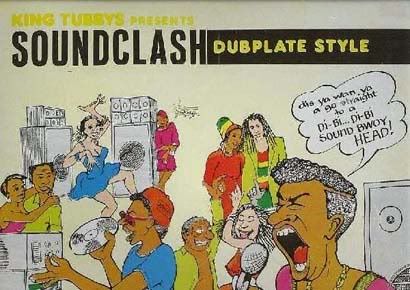 And more so this Scientist one...
I like all the Scientist covers. They feature all sorts of weird stuff going on, such as him playing football, shooting space invaders etc. Dinosaurs made out of speakers seems to make perfect sense in that way...
There's more info on my painting
here
.
Also while out at Carnival I noticed posters up for the forthcoming Bristol Festival which feature a specially commissioned illustration of mine!
The piece is a dino type head made up of all the venues where the festival takes place. More info, bigger pics and sketches over on my
blog
!