People often ask me whether I do any illustrations that don't feature dinosaurs....well the answer is yes. I do alot of dinosaurs in my work as, of course, I like them and other people seem to like them, so I get asked to do them a fair bit. I do quite a few illustration projects that don't involve dino's or making images up out of lots of smaller things. These are my bread and butter jobs - local council recycling schemes, internal company website thingies. I don't tend to put them up online very often as they are often restricted or I just think that they won't be of that much interest to people.
I thought that a sneak peek at a recent batch of illustrations that aren't what I am usually known for might be a bit of fun. I probably shouldn't be sticking them up here, so SHHHHHHHH!
I got a list of character names and details on where in the world they are travelling to. Some of them are more interesting than others, but then I found it made it more fun to make up little stories about them and what they look like. Mrs Council has been a great help with these funny people...lets meet some of them!
CAROL & BARRY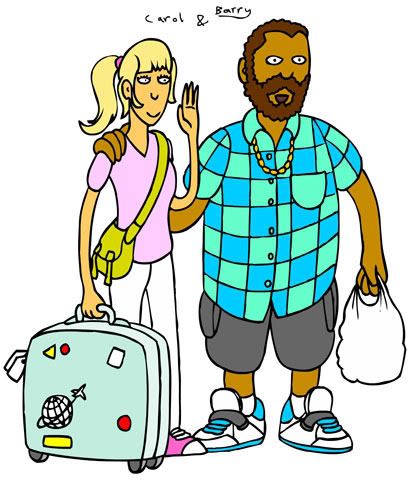 Carol takes all the luggage while Barry concentrates on taking his snacks in a plastic bag. In Barry's bag - cans of Fanta, Yorkie bars, Bakewell tarts and deep fill sandwiches from Asda.
KERRY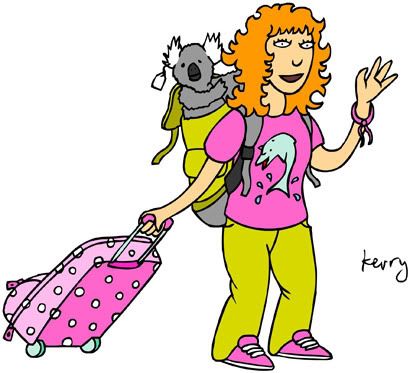 Kerry loves pink and all things fluffy. She wears a friendship band. I hate her.
JASON
Jason is too cool for school, although the amount of time he spends on Facebook talking about all the clubs and gigs he goes to probably means he is actually a sad lonely man.
STUART & BARBARA
Stuart is very organised and has an itinerary of all the places they are going to visit. Barbara likes beige.
TREV & TEL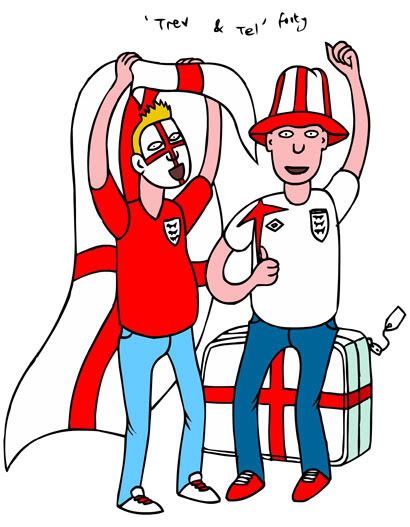 Trev and Tel are a couple of Stella swilling dick heads. I couldn't get their sunburn any pinker as would match the red on their Saint Georges flag.
JONNY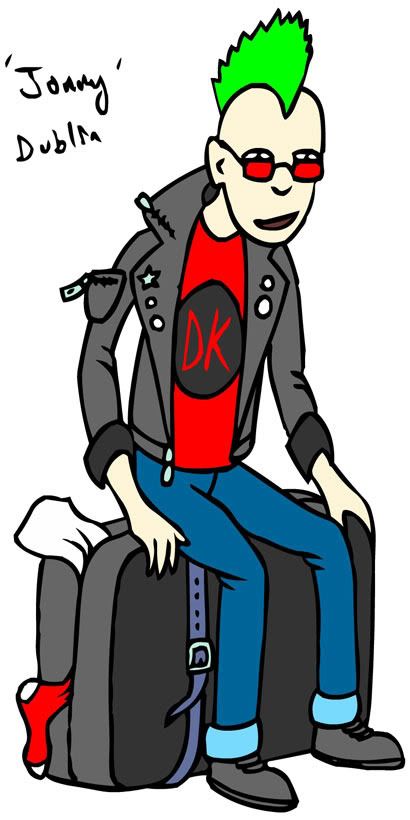 Punks not dead OK?
JIM
Jim is off round Europe to do Woofing, felching or whatever it's called mkay? Who knows, he might end up in Thailand and get more added to his tribal tattoo.
STEVE & SUE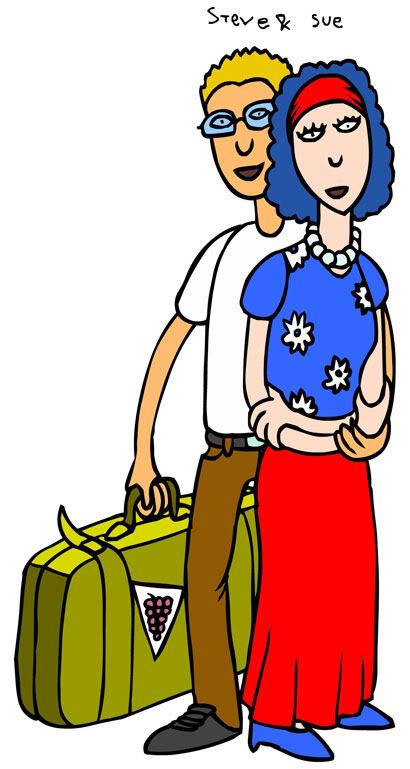 Sex people.